1 U.S. Dollar = 0.89 Swiss Francs
GOLD PRICE PER TROY OZ: Norwegian Krone

Code: NOK

Ask: 8,108.46

Bid: 8,102.81

GOLD PRICE PER TROY OZ: Lithuanian Litas

Code: LTL

Ask: 3,322.96

Bid: 3,320.65

GOLD PRICE PER TROY OZ: Israeli Shekel

Code: ILS

Ask: 4,415.11

Bid: 4,412.04

GOLD PRICE PER TROY OZ: Hungarian Forint

Code: HUF

Ask: 301,554.79

Bid: 301,344.82

GOLD PRICE PER TROY OZ: Danish Krone

Code: DKK

Ask: 7,175.08

Bid: 7,170.08

GOLD PRICE PER TROY OZ: Yemeni Rial

Code: YER

Ask: 299,849.25

Bid: 299,656.21

GOLD PRICE PER TROY OZ: Tunisian Dinar

Code: TND

Ask: 2,296.18

Bid: 2,294.71

GOLD PRICE PER TROY OZ: Syrian Pound

Code: SYP

Ask: 135,850.67

Bid: 135,763.21

GOLD PRICE PER TROY OZ: Somali Shilling

Code: SOS

Ask: 2,023,133.60

Bid: 2,021,831.16

GOLD PRICE PER TROY OZ: Sudanese Pound

Code: SDG

Ask: 6,160.19

Bid: 6,156.22

GOLD PRICE PER TROY OZ: Qatari Riyal

Code: QAR

Ask: 5,088.24

Bid: 5,084.97

GOLD PRICE PER TROY OZ: Omani Rial

Code: OMR

Ask: 537.37

Bid: 537.02

GOLD PRICE PER TROY OZ: Mauritanian Ougiya

Code: MRO

Ask: 365,359.85

Bid: 365,124.64

GOLD PRICE PER TROY OZ: Moroccan Dirham

Code: MAD

Ask: 11,962.69

Bid: 11,954.99

GOLD PRICE PER TROY OZ: Libyan Dinar

Code: LYD

Ask: 1,780.75

Bid: 1,779.60

GOLD PRICE PER TROY OZ: Lebanese Pound

Code: LBP

Ask: 2,101,393.52

Bid: 2,100,040.69

GOLD PRICE PER TROY OZ: Jordanian Dinar

Code: JOD

Ask: 990.49

Bid: 989.85

GOLD PRICE PER TROY OZ: Iraqi Dinar

Code: IQD

Ask: 1,601,216.66

Bid: 1,600,185.84

GOLD PRICE PER TROY OZ: Algerian Dinar

Code: DZD

Ask: 110,648.24

Bid: 110,577.00

GOLD PRICE PER TROY OZ: Djiboutian Franc

Code: DJF

Ask: 251,077.45

Bid: 250,915.81

GOLD PRICE PER TROY OZ: Bahraini Dinar

Code: BHD

Ask: 526.47

Bid: 526.13

GOLD PRICE PER TROY OZ: Czech Koruna

Code: CZK

Ask: 31,404.36

Bid: 31,386.55

GOLD PRICE PER TROY OZ: Polish Zloty

Code: PLN

Ask: 5,051.18

Bid: 5,048.36

GOLD PRICE PER TROY OZ:

Code:

Ask: 0.00

Bid: 0.00

GOLD PRICE PER TROY OZ: Canadian Dollar

Code: CAD

Ask: 1,733.39

Bid: 1,714.21

GOLD PRICE PER TROY OZ: Indonesian Rupiah

Code: IDR

Ask: 15,123,791.85

Bid: 15,114,978.45

GOLD PRICE PER TROY OZ: Peruvian Nuevo Sol

Code: PEN

Ask: 4,678.45

Bid: 4,675.72

GOLD PRICE PER TROY OZ: Colombian Peso

Code: COP

Ask: 3,754,390.59

Bid: 3,739,947.34

GOLD PRICE PER TROY OZ: Kuwaiti Dinar

Code: KWD

Ask: 467.86

Bid: 466.73

GOLD PRICE PER TROY OZ: Singapore Dollar

Code: SGD

Ask: 2,131.10

Bid: 2,129.86

GOLD PRICE PER TROY OZ: Brazilian Real

Code: BRL

Ask: 2,945.92

Bid: 2,927.06

GOLD PRICE PER TROY OZ: Hong Kong Dollar

Code: HKD

Ask: 13,365.98

Bid: 13,271.12

GOLD PRICE PER TROY OZ: New Zealand Dollar

Code: NZD

Ask: 2,090.29

Bid: 2,089.07

GOLD PRICE PER TROY OZ: Rand

Code: ZAR

Ask: 13,741.74

Bid: 13,562.33

GOLD PRICE PER TROY OZ: Yuan Renminbi

Code: CNY

Ask: 10,900.27

Bid: 10,876.77

GOLD PRICE PER TROY OZ: Yen

Code: JPY

Ask: 134,064.55

Bid: 133,935.00

GOLD PRICE PER TROY OZ: Swedish Krona

Code: SEK

Ask: 10,947.26

Bid: 10,940.88

GOLD PRICE PER TROY OZ: Australian Dollar

Code: AUD

Ask: 1,628.60

Bid: 1,626.79

GOLD PRICE PER TROY OZ: Pound Sterling

Code: GBP

Ask: 1,066.41

Bid: 1,064.93

GOLD PRICE PER TROY OZ: Malaysian Ringgit

Code: MYR

Ask: 5,263.11

Bid: 5,260.04

GOLD PRICE PER TROY OZ: Vanuatu Vatu

Code: VUV

Ask: 159,927.33

Bid: 159,834.13

GOLD PRICE PER TROY OZ: Swiss Franc

Code: CHF

Ask: 1,504.60

Bid: 1,502.87

GOLD PRICE PER TROY OZ: Indian Rupee

Code: INR

Ask: 83,522.37

Bid: 83,456.56

GOLD PRICE PER TROY OZ: Philippine Peso

Code: PHP

Ask: 73,355.28

Bid: 73,312.53

GOLD PRICE PER TROY OZ: Argentine Peso

Code: ARS

Ask: 5,417.80

Bid: 5,397.51

GOLD PRICE PER TROY OZ: Euro

Code: EUR

Ask: 1,237.57

Bid: 1,235.99

GOLD PRICE PER TROY OZ: Mexican Peso

Code: MXN

Ask: 22,895.42

Bid: 22,864.94

GOLD PRICE PER TROY OZ: United States Dollar

Code: USD

Ask: 1,715.04

Bid: 1,714.04

GOLD PRICE PER TROY OZ: Producer index

Code: PROD IDX

Ask: 74.16

Bid: 74.16

GOLD PRICE PER TROY OZ: Russian ruble

Code: RUB

Ask: 132.63

Bid: 132.63

GOLD PRICE PER TROY OZ: Vietnamese dong

Code: VND

Ask: 1,841,196.88

Bid: 1,841,196.88

GOLD PRICE PER TROY OZ: Egyptian pound

Code: EGP

Ask: 994.64

Bid: 994.64

GOLD PRICE PER TROY OZ: Consumer index

Code: CONS IDX

Ask: 48.27

Bid: 48.27

GOLD PRICE PER TROY OZ: Turkish lira

Code: TRY

Ask: 0.10

Bid: 0.10

GOLD PRICE PER TROY OZ: G5 currency index

Code: G5 CCY

Ask: 78.26

Bid: 78.26

GOLD PRICE PER TROY OZ: Saudi riyal

Code: SAR

Ask: 735.19

Bid: 735.19

GOLD PRICE PER TROY OZ: Korean won

Code: KRW

Ask: 107,409.78

Bid: 107,409.78

GOLD PRICE PER TROY OZ: Thai baht

Code: THB

Ask: 4,452.10

Bid: 4,452.10

GOLD PRICE PER TROY OZ: UAE dirham

Code: AED

Ask: 850.82

Bid: 850.82
FILL OUT OUR FORM FOR MORE INFO:
The Swiss Gold Annuity™
It's finally here.
In recent years, the global financial market has resembled a bloodbath: economies are crashing, currency values are plummeting and investors are seeing their life savings drained by a series of bad investments.
About the only constant during this grim period in our economic history has been the rising value of gold. Gold is currently in the midst of an 11-year bull market. Ten years ago, gold sold for less than $300 per troy ounce. Now, with its popularity as an investment vehicle at an all-time high, the price of gold has risen to more than $1600 per troy ounce.
Throughout recorded history, gold has been the preeminent store of value. In times of economic duress, investors flock to gold for the stability and value retention it offers. More and more investors today are converting their assets into gold.
No person wants to stand idly by as his or her retirement account or child's college fund crashes and burns along with the stock market. Investing in gold minimizes this risk by securing money in an asset that has always held its value.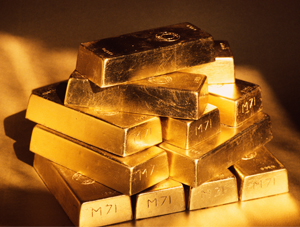 Switzerland has been a leading trader in gold since the Middle Ages. Switzerland's financial and political stability ensures that all money invested in the country will be safe. And of all the investment options available in Switzerland, The Swiss Gold Annuity™ is fast establishing itself as the ideal vehicle in which to store gold.
The Swiss Gold Annuity™ Setup
The setup of The Swiss Gold Annuity™ is similar to that of a personal holding structure. Investors request a special annuity policy from an insurance company, which does not actively manage the policy. Rather, an independent investment manager invests in a variety of gold assets on their behalf. These assets range from gold bullion to stock in gold refineries.
As with a Strategic Swiss Annuity™, a custodian bank in the bordering country of Liechtenstein holds all investments. With insurance laws derived from Switzerland, Liechtenstein offers investors similar privacy and asset protection while also letting them determine the type of assets that comprise their annuities.
The minimum initial deposit for The Swiss Gold Annuity™ is 250,000 Swiss francs, or approximately $310,000 USD.
Only GONTHIER GROUP SA offers The Swiss Gold Annuity™. Please fill out our gold annuity proposal request form or contact us today with any inquiries you may have about the investment opportunities afforded by The Swiss Gold Annuity™.