1 U.S. Dollar = 0.89 Swiss Francs
GOLD PRICE PER TROY OZ: Norwegian Krone

Code: NOK

Ask: 8,108.46

Bid: 8,102.81

GOLD PRICE PER TROY OZ: Lithuanian Litas

Code: LTL

Ask: 3,322.96

Bid: 3,320.65

GOLD PRICE PER TROY OZ: Israeli Shekel

Code: ILS

Ask: 4,415.11

Bid: 4,412.04

GOLD PRICE PER TROY OZ: Hungarian Forint

Code: HUF

Ask: 301,554.79

Bid: 301,344.82

GOLD PRICE PER TROY OZ: Danish Krone

Code: DKK

Ask: 7,175.08

Bid: 7,170.08

GOLD PRICE PER TROY OZ: Yemeni Rial

Code: YER

Ask: 299,849.25

Bid: 299,656.21

GOLD PRICE PER TROY OZ: Tunisian Dinar

Code: TND

Ask: 2,296.18

Bid: 2,294.71

GOLD PRICE PER TROY OZ: Syrian Pound

Code: SYP

Ask: 135,850.67

Bid: 135,763.21

GOLD PRICE PER TROY OZ: Somali Shilling

Code: SOS

Ask: 2,023,133.60

Bid: 2,021,831.16

GOLD PRICE PER TROY OZ: Sudanese Pound

Code: SDG

Ask: 6,160.19

Bid: 6,156.22

GOLD PRICE PER TROY OZ: Qatari Riyal

Code: QAR

Ask: 5,088.24

Bid: 5,084.97

GOLD PRICE PER TROY OZ: Omani Rial

Code: OMR

Ask: 537.37

Bid: 537.02

GOLD PRICE PER TROY OZ: Mauritanian Ougiya

Code: MRO

Ask: 365,359.85

Bid: 365,124.64

GOLD PRICE PER TROY OZ: Moroccan Dirham

Code: MAD

Ask: 11,962.69

Bid: 11,954.99

GOLD PRICE PER TROY OZ: Libyan Dinar

Code: LYD

Ask: 1,780.75

Bid: 1,779.60

GOLD PRICE PER TROY OZ: Lebanese Pound

Code: LBP

Ask: 2,101,393.52

Bid: 2,100,040.69

GOLD PRICE PER TROY OZ: Jordanian Dinar

Code: JOD

Ask: 990.49

Bid: 989.85

GOLD PRICE PER TROY OZ: Iraqi Dinar

Code: IQD

Ask: 1,601,216.66

Bid: 1,600,185.84

GOLD PRICE PER TROY OZ: Algerian Dinar

Code: DZD

Ask: 110,648.24

Bid: 110,577.00

GOLD PRICE PER TROY OZ: Djiboutian Franc

Code: DJF

Ask: 251,077.45

Bid: 250,915.81

GOLD PRICE PER TROY OZ: Bahraini Dinar

Code: BHD

Ask: 526.47

Bid: 526.13

GOLD PRICE PER TROY OZ: Czech Koruna

Code: CZK

Ask: 31,404.36

Bid: 31,386.55

GOLD PRICE PER TROY OZ: Polish Zloty

Code: PLN

Ask: 5,051.18

Bid: 5,048.36

GOLD PRICE PER TROY OZ:

Code:

Ask: 0.00

Bid: 0.00

GOLD PRICE PER TROY OZ: Canadian Dollar

Code: CAD

Ask: 1,733.39

Bid: 1,714.21

GOLD PRICE PER TROY OZ: Indonesian Rupiah

Code: IDR

Ask: 15,123,791.85

Bid: 15,114,978.45

GOLD PRICE PER TROY OZ: Peruvian Nuevo Sol

Code: PEN

Ask: 4,678.45

Bid: 4,675.72

GOLD PRICE PER TROY OZ: Colombian Peso

Code: COP

Ask: 3,754,390.59

Bid: 3,739,947.34

GOLD PRICE PER TROY OZ: Kuwaiti Dinar

Code: KWD

Ask: 467.86

Bid: 466.73

GOLD PRICE PER TROY OZ: Singapore Dollar

Code: SGD

Ask: 2,131.10

Bid: 2,129.86

GOLD PRICE PER TROY OZ: Brazilian Real

Code: BRL

Ask: 2,945.92

Bid: 2,927.06

GOLD PRICE PER TROY OZ: Hong Kong Dollar

Code: HKD

Ask: 13,365.98

Bid: 13,271.12

GOLD PRICE PER TROY OZ: New Zealand Dollar

Code: NZD

Ask: 2,090.29

Bid: 2,089.07

GOLD PRICE PER TROY OZ: Rand

Code: ZAR

Ask: 13,741.74

Bid: 13,562.33

GOLD PRICE PER TROY OZ: Yuan Renminbi

Code: CNY

Ask: 10,900.27

Bid: 10,876.77

GOLD PRICE PER TROY OZ: Yen

Code: JPY

Ask: 134,064.55

Bid: 133,935.00

GOLD PRICE PER TROY OZ: Swedish Krona

Code: SEK

Ask: 10,947.26

Bid: 10,940.88

GOLD PRICE PER TROY OZ: Australian Dollar

Code: AUD

Ask: 1,628.60

Bid: 1,626.79

GOLD PRICE PER TROY OZ: Pound Sterling

Code: GBP

Ask: 1,066.41

Bid: 1,064.93

GOLD PRICE PER TROY OZ: Malaysian Ringgit

Code: MYR

Ask: 5,263.11

Bid: 5,260.04

GOLD PRICE PER TROY OZ: Vanuatu Vatu

Code: VUV

Ask: 159,927.33

Bid: 159,834.13

GOLD PRICE PER TROY OZ: Swiss Franc

Code: CHF

Ask: 1,504.60

Bid: 1,502.87

GOLD PRICE PER TROY OZ: Indian Rupee

Code: INR

Ask: 83,522.37

Bid: 83,456.56

GOLD PRICE PER TROY OZ: Philippine Peso

Code: PHP

Ask: 73,355.28

Bid: 73,312.53

GOLD PRICE PER TROY OZ: Argentine Peso

Code: ARS

Ask: 5,417.80

Bid: 5,397.51

GOLD PRICE PER TROY OZ: Euro

Code: EUR

Ask: 1,237.57

Bid: 1,235.99

GOLD PRICE PER TROY OZ: Mexican Peso

Code: MXN

Ask: 22,895.42

Bid: 22,864.94

GOLD PRICE PER TROY OZ: United States Dollar

Code: USD

Ask: 1,715.04

Bid: 1,714.04

GOLD PRICE PER TROY OZ: Producer index

Code: PROD IDX

Ask: 74.16

Bid: 74.16

GOLD PRICE PER TROY OZ: Russian ruble

Code: RUB

Ask: 132.63

Bid: 132.63

GOLD PRICE PER TROY OZ: Vietnamese dong

Code: VND

Ask: 1,841,196.88

Bid: 1,841,196.88

GOLD PRICE PER TROY OZ: Egyptian pound

Code: EGP

Ask: 994.64

Bid: 994.64

GOLD PRICE PER TROY OZ: Consumer index

Code: CONS IDX

Ask: 48.27

Bid: 48.27

GOLD PRICE PER TROY OZ: Turkish lira

Code: TRY

Ask: 0.10

Bid: 0.10

GOLD PRICE PER TROY OZ: G5 currency index

Code: G5 CCY

Ask: 78.26

Bid: 78.26

GOLD PRICE PER TROY OZ: Saudi riyal

Code: SAR

Ask: 735.19

Bid: 735.19

GOLD PRICE PER TROY OZ: Korean won

Code: KRW

Ask: 107,409.78

Bid: 107,409.78

GOLD PRICE PER TROY OZ: Thai baht

Code: THB

Ask: 4,452.10

Bid: 4,452.10

GOLD PRICE PER TROY OZ: UAE dirham

Code: AED

Ask: 850.82

Bid: 850.82
FILL OUT OUR FORM FOR MORE INFO:
Safeguard Your Gold (For American Investors Only)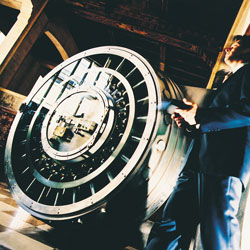 Before investing in gold bullion, American investors should be aware that the U.S. government has a history of levying bans against the private ownership of gold.
There have been four gold confiscations in the history of the United States. At the Great Depression's height in 1933, President Franklin D. Roosevelt issued Executive Order No. 6102, which confiscated all privately held gold bullion and gold certificates. In exchange for their gold, American investors received paper dollars.
From 1933 to 1974, it was illegal for American citizens to privately own gold. When that right was restored in 1974, it came with a clause that granted the Secretary of the Treasury the authority to require all citizens to surrender their gold holdings. Even today, the right to own gold is a privilege granted by the government. American citizens have no constitutional right guaranteeing this privilege.
Besides being an interesting historical footnote, the ramifications of this executive order are significant. Investors who purchase gold are not doing so on a whim; they purchase gold because they covet the security and value retention it offers. The chance that the U.S. government might someday force gold owners to liquidate their holdings into the U.S. dollar should make any long-term investor pause.
Fortunately, there is a more secure outlet for American investors who want to own gold. The Swiss Gold Annuity™ offers you the ability to store any type of gold asset inside of a Swiss annuity policy. This policy is safeguarded against the reach of creditors and governments, ensuring that the U.S. government will never be able to seize your gold.
Asset diversification is a critical part of any soundly constructed investment portfolio. The most effective way to achieve this today is by investing in gold. The Swiss Gold Annuity™ allows you to shift some of your assets away from paper currencies without the threat of the government seizing them.
Please fill out our no-obligation proposal form for more information on how The Swiss Gold Annuity™ can help safeguard your gold holdings.